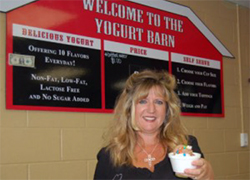 Client: Yogurt Barn
Job Type: Tenant Improvement
Building Type: Retail
Location: Ramona, California
Job Scope:
JP Weiman Construction provided labor and materials to build new insulated walls. Installed new floor drain, installed a water heater platform above mop sink. Patched all new roof penetrations. Installed 3 new paint grade doors with frames and hardware. Install a standard sneeze guard. Installed vinyl rock above the service counter. Installed VCT flooring at the Office area and patched the existing ceramic tiled floor w/ tiles saved from demo. Installed FRP at the wet walls in restroom. Installed new bathroom accessories. Added and relocate fire sprinkler pendant drops as needed per new layout.